Well, my Words With Friends "John Extension" is out today. If you've got WWF, you're gonna want to download this. Best of all? It's free to paying subscribers of this website. So just shoot me an email with your subscriber identification code in the subject, and then, in the body, an explanation of what you're going to do with the John Extension, and I'll get you the code you're gonna need to add to the application ASAP.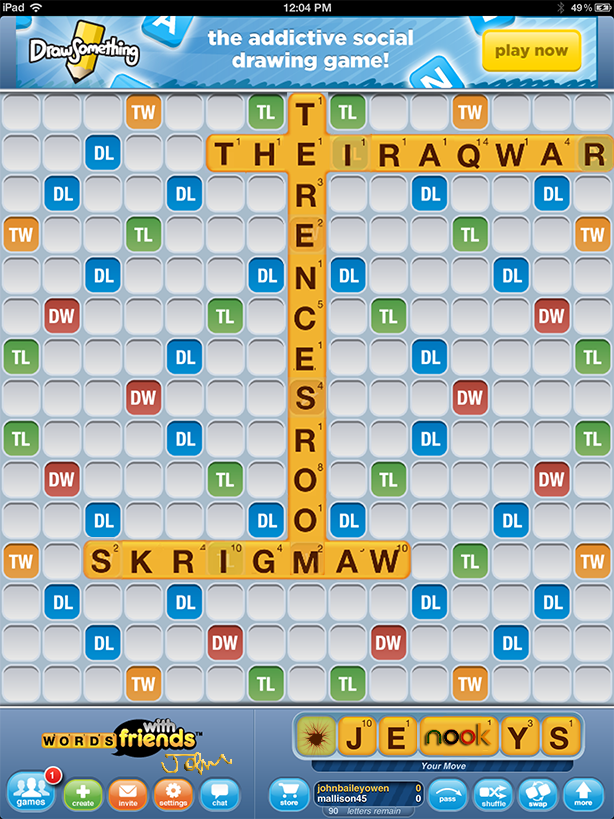 A quick explanation: this is NOT some "hack" that allows you to play any string of letters you choose. This is the regular Words With Friends dictionary updated to include some words that are of personal importance to me. So you're gonna have to play around, experiment with the tiles. That's the fun of it. You can see some freebies in the photo above.
The best thing is that I've added a number of special tiles as well. You can see two of them in the tile rack above. Now, that "Nook" one, you can't play it as a word or a letter. (If it worked as a letter I'm not even sure what you could do with it) Instead, it allows you to read a sample of a random book from BN.com while the other person plays. It does count as an actual move, so this is the kind of thing you only want to do when you have a comfortable lead…or a huge need to read something, like in an emergency situation.
It's two squares so it's two turns.
That other square, with those little lines, is to make your opponent's tiles and board get "sick." You'll see what I mean. But it could also make your phone sick so be careful.
Those are the only special tiles right now, but there will probably more. The thing is they took a shit of a long time to code – a significant chunk of the two years I've spent on the John Extension. So I'm really gonna need to see some enthusiasm and a lot of sharing of this from you guys, and then hopefully I will get a return on my investment and I can keep making games for you.