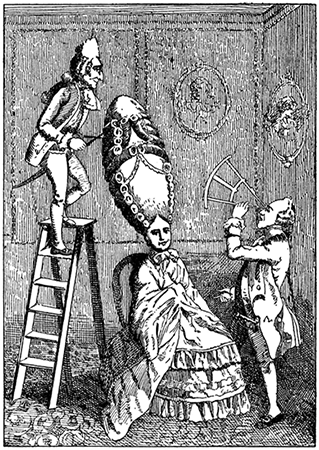 A museum guide is leading a tour at the Smithsonian Museum of Weird Shit.
GUIDE: And this is the Presidential Wing…Here, you'll see the remarkable inauguration gowns worn by the First Ladies over the years. Each is one of a kind, each has a story to tell, and underneath each, you'll see the First Ladies' skeletons, which are used to hold the gowns up.
MAN: And these are…replicas?
GUIDE: All these dresses were actually worn by the First Lady at the inauguration.
MAN: I meant are these the real skeletons themselves? Not just…I don't know, some high-quality, resin-based replicas made from a mold of the real skeletons?
GUIDE: These are the real deal.
The guide leads the group to the first display.  
GUIDE: It's the evening of April 30, 1789, and President Washington is speaking at Federal Hall. At his side is Martha, wearing this dress of fine salmon-pink faille. Grand, isn't it? It might have shocked some patriots to learn that this dress was made in Britain – by the Queen's dressmaker. But they would have been well-pleased to know that Mrs. Washington's skeleton was reinforced for the event with strong American hickory.
He reaches out and knocks twice.
WOMAN: Wait, where did you get all these?
GUIDE: They're on loan from the current First Lady.
WOMAN: The skeletons, I mean.
GUIDE: Yes.
They walk to a new display.
GUIDE:  This is the dress Mary Todd Lincoln wore in 1865. The deep purple velvet was chosen by her African-American handmaid. And, if you grab her arm and pull, you'll see what a creaky skeleton she had.  It could often be heard outside of her body as she performed her duties – writing letters, hosting state dinners, keeping in working order the tank that held the deceased First Ladies' skeletons. Does anyone know which famous catchphrase resulted from this?
BOY SCOUT (hesitantly): "Abraham Leakin' heard Marry Todd Creakin' and decided to oil her bones?"
GUIDE: That's right. Of course, her husband would rarely have had time to carry out a complete oiling, so the procedure was usually was performed by her physician – whose skeleton you can see on her right.
BOY SCOUT:  Man that's a small cage.
GUIDE (shrugging): People were smaller back then. Moving up a century or so, we have Mamie Eisenhower and Jackie Kennedy. A quick look at the two,  and you'll see a major shift in fashion.
WOMAN: What are all those marks on Mamie's femurs?
GUIDE (takes out glasses): Huh. Those are probably from her husband's claspers.
WOMAN: But they're so deep.
GUIDE (winking): Guess it shows how much Ike liked her. No, you're right. They're unusually deep. And it could be biological, or it could be from back in the seventies, when a group of schoolboys got their hands on the skeleton and did a great deal of whittling and carving. You can still see their initials and messages to each other.
MAN: Did the schoolboys make those bumps?
GUIDE: They did not. Those are called "bone roses" or "skeleton thorns," and they occur naturally.
MAN: They look painful.
GUIDE: They would have been extremely painful. It's likely Mamie never even knew where she was, much less that she was the First Lady. Now, finally, over here, we have Ida McKinley, who is popularly believed to have had the greatest wingspan of any First Lady. However, that honor actually belongs to Barbara Bush. Can anyone see how she did it?
BOY SCOUT: Extenders.
GUIDE: Precisely. That's why we have them fighting here. Obviously, these are not their inauguration dresses. They're some cool unitards we designed. If there are no further questions, I'll conclude the tour by pressing this button, and letting them begin. Please stay out of the range of their swords.
MAN: What about all those skeletons over in that corner? Aren't those part of the exhibit?
GUIDE: Yeah…they're sort of on their way to the dump, though. Okay, have a good one, folks.
The room fills with sounds of swords clashing and pained robotic bellows.